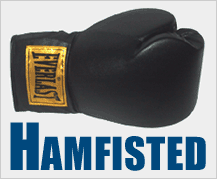 Picture Galleries
Writing
Technical Arcana
Books
Archive
About This Site
Google search Hamfisted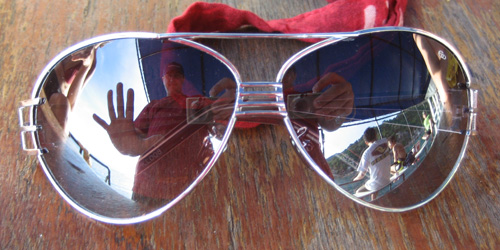 This is where I post galleries of pictures of myself, my travels, my friends and other interesting things. I must think I'm pretty important. All my pictures are now hosted on
my Flickr stream
, because it's really nifty.
2006 Picture Galleries
| | |
| --- | --- |
| | To celebrate the end of Alicia's exams and because I'd never been, we decided that a weekend of rest and relaxation in the Blue Mountains was in order. Part of the area was on fire at the time, but we didn't let that bother us. |
| | With me off travelling and my brother living in Melbourne, my Dad, sister, brother and I hadn't been in the same room together for ten years. To correct this, we gathered on the Gold Coast to celebrate my brother's 30th birthday. |
| | One of the most famous parts of Sydney is its harbour, so it was excellent to get out and cruise around for a day with Clare and some other friends. We chased skiffs, had a lovely lunch and went for a relaxing wander up Middle Harbour. |
| | Another opportunity for me to kilt it up arrived in the form of Danny and Alicia's wedding, at the Brisbane Powerhouse in September. The event had a sultry black and red jazz theme, great food, super music and spirited dancing. |
| | Since I moved to Sydney in August, I've been trying to get out and see as much cool new stuff as possible. I met Anthony at Circular Quay and took the usual tour, checking out The Rocks Markets, the Sydney Opera House, and the Sydney Harbour Bridge. |
| | After I finally got my Open Water dive ticket in Thailand, I went diving with my buddies George and Cam down in Byron Bay. We dove around Julian Rocks, and saw a grey nurse shark, wobbegongs, crayfish and tonnes of other fishies. Very cool. |
| | I had the great pleasure of attending Cam and Clair's wedding on the Gold Coast in June. It was a lovely day, with a beautiful ceremony and great fun at the reception. It was also good to trot out my kilt and make the ladies swoon. |
| | Nara is another beautiful Japanese destination we visited via the Shinkansen from Osaka. We fed its famous but pushy tame deer, wandered through the park and stood in awe of the huge and amazing Buddhist temple, Todai-ji. |
| | The first city Beck and I explored on my Japanese jaunt was Kyoto, the country's ancient capital. Unfortunately it rained hard all day, so our site-seeing was limited to Ginkakuji and the back streets. It was amazing, but I'll have to return to do it justice. |
| | Another place I'd never visited while I lived in London was Bath Spa, which is about 150km west of London. It's a really pretty city, with a beautiful cathedral and amazing Roman baths. The botanical gardens and the city itself are also lovely. |
| | Ryan, Wes and I took the ferry across to Vancouver Island, stopping in at Victoria, the beach, and Butchart Gardens. It was a lovely sunny day, making our outing quite relaxing. It was also a nice farewell to the island for me, too. |
| | The Dr Sun Yat-Sen Gardens are in Chinatown in Vancouver, and are quite nice. They're pretty compact, but have a bunch of ponds, trees, rocks and turtles to relax and enjoy on a sunny afternoon. They even had nesting geese. |
| | I met a rather pretty kitty called Flo just as I was winding up my time in Utah, but I still thought she was deserving of her own little gallery. She now lives with Erin, Cam and Clair, and has full-time employment being adorable. |
| | Basketball is huge in Utah, so it made sense for me and Cam to head along and check out the Utah Jazz. It was also the night basketball legend Karl Malone retired his number, so it was a massive evening for him and the fans. |
| | After our short jaunt in Las Vegas, we headed back towards Utah once again. Along the way, we saw Lake Mead, Hoover Dam, and miles and miles of wide open sky. Clair's car's speedo stopped working too, so she had to use The Force for the rest of the trip. |
| | No west coast adventure is complete without a few crazy days in Las Vegas. It was my second visit (and my second stay at the Luxor), but the town still has plenty of glam and neon charm. And buffets. Lots of buffets. |
| | Utah is not widely known for kickass heavy metal and rock, but I experienced both in mega doses when I joined Cam and Clair at Metal Gods at Liquid Joes. Big hair, chaps and a head-banging crowd made the awesome music even awesomer. |
| | While visiting some friends in Utah, I had the pleasure to meet Cordova and Hades, two charming and highly entertaining Jack Russells. They once again prove the adage that the only thing better than a playful dog is a pair of playful dogs. |
| | I finally managed to get a Whistler snow day with some patchy sunshine, so I could take a few decent shots of the majestic mountains in the area. There was an excellent mid-mountain cloud bank to ride above, too. |
| | If you're after snow near Vancouver, Cypress Mountain is a fine place to go. If you want fresh powder, a Whistler trek is usually necessary. Cypress does have its days though, as shown by one day in January, with delicious powder all over the mountain. |
I continued my Canadian Adventure in 2005, with my major achievements being in the field of snowboarding. With great dedication and practice, I reached the level of upper intermediate and tested my tubular carving skills in Utah. I also visited London for my holidays.
2005 Picture Galleries
| | |
| --- | --- |
| | It took me nearly two years in Van to finally see the Vancouver Aquarium. It's a fun place though, with lots of fish, dolphins, Beluga Whales, and hordes of screaming children. They might need to reduce the size of the screaming children exhibit. |
| | I finally got to ride the London Eye on a sunny day while I was in London on my short holiday, and the views are great. Funny how I never found the time to get along and see it when I lived there for two and half years. Too many distractions. |
| | Kew Gardens were high on my list of sites to see while I was in London, and they were pretty great. I only had an afternoon to wander amongst the greenery, but I managed to cram in a bunch of stuff before I fled back to London's concrete jungle. |
| | I visited London in 2005, seeing sites I'd mysteriously skipped while I lived there, catching up with friends and feasting on food all over the city. While I was wandering, I snapped pics around the Thames, near Westminster Abbey and at Greenwich. |
| | To combat the dearth of snow in British Columbia, I travelled down to Utah to hook up with my friends Cameron and Clair for a weekend of snow at Snowbird, a very swanky ski resort right outside Salt Lake City. Good fun, good snow, and good times. |
I spent my 2004 in Vancouver, Canada. I made new friends, played in the snow, and did a little bit of travelling. Not a bad year, that.
2004 Picture Galleries
| | |
| --- | --- |
| | North Americans really get into Halloween, so it was easy to find a gig where I could shimmy on a costume and jump about like a fool. My friends Conor and Becka threw a pretty good party, even setting off a bunch of sweet fireworks at midnight. |
| | With the NHL in limbo as its players and owners argued over sale rates of various Caribbean islands, fans turned to their local leagues to get their fix. I joined the fun and saw my first live game as the Vancouver Giants played the Saskatoon Blades. |
| | With summer beginning to fade, I seized one of the last sunny day to head down to the VanDusen gardens in Vancouver. It was really relaxing, with ponds, fountains, a waterfall, a meditation garden, a maze and even a couple of turtles relaxing by the pool. |
| | I'm really just a big kid at heart, so when Penny Arcade, one of my favourite webcomics, decided to hold there first convention, the Penny Arcade Exposition just down the road in Seattle, I simply had to go. It was busy as buggery, but good fun. |
| | Despite the warnings of locals, I decided to embark on "nature's stairmaster", The Grouse Grind. The hike was pretty tough, but the views of Vancouver from the top of the mountain were amazing. I even got to ride the chairlift back down. |
| | Even spring at Whistler Blackcomb is pretty good for boarding. So, I grabbed my buddy Cam and hit the slopes, trying to raise my skills from "dangerous to trees and wildlife". There's also a short video clip (2.7MB MPEG) of me in action, too. |
For most of 2003, I was back living in Brisbane, Australia. I did a few IT contracts, enjoyed the sunshine, and saved my pennies for December, when I packed up once again and moved to Vancouver, Canada.
2003 Picture Galleries
| | |
| --- | --- |
| | On our way to Vancouver, Katie and I stopped at Hawaii for a few days rest and relaxation. We wandered the malls of Waikiki, drove around the island in a convertible, went to a Luau and even fit in an entire morning's snorkling with the fishies. |
| | The saltiest swabs in town dusted off their best cutlasses, eyepatches and inflatable mermaids to dress up fine and dandy for Teilo's Pirate Party, held in his fine new vessel moored behind Caxton Street. Shiver me timbers. |
| | In August, George and I decided to get back to nature with a day hike at Binna Burra Lodge, through the rainforest of the Lamington National Park. It was an excellent day's walking, with lots of peaceful trees and excitable birdlife. |
| | Easter saw us gather a stalwart crew and brave the rain, mud and fish tacos of the East Coast Blues and Roots Festival held in lovely Byron Bay. It was a long day, but we were rewarded with some superb live music. |
| | I was naturally delighted when Djalinda announced that she was holding a costume party for her birthday here in Brisbane. The theme for the evening was Good and Evil, and brought forth many icons of history, movies and religion. |
| | Katie and I managed to get our hands on a free voucher for a day's driving in a classic MGB roadster, so we left the city behind us and cruised at a moderate but extremely stylish pace up the Sunshine Coast, looking for tea and scones. |
| | Having the Big Day Out just down the road on the Gold Coast was something I just couldn't resist. We braved the massive crowds, searing heat, clouds of dust and huge queues to have an excellent day, enjoying a wide variety of great music. |
2002 was a pretty fun time, but it didn't include enough of that annoying yet rather necessary activity - work. There was plenty of partying, travel and good clean exercise though. I spent most of the year living in London (except for a leisurely holiday in Brisbane in March and April), then moved back to Australia in November when my visa finally died.
2002 Picture Galleries
| | |
| --- | --- |
| | In early December, Katie and I joined her friends Michael and Sonoko for a genuine adventure at the Outback Eclipse Festival in South Australia. It was a wild and crazy few days, with some great music, fun people and a stunning solar eclipse. |
| | My final London party just had to be one more Orme Court Halloween bash, with the theme Haunted Hospital. All manner of doctors, professors, horny devils, undead and oh so sexy nurses filled the house to overflowing. |
| | Having a name like mine meant that I had to visit Scotland at some stage, or else I'd be beaten senseless by my ancestors in the afterlife. So, I decided to walk The West Highland Way with my buddy George, from Glasgow to Fort William. |
| | The residents of Orme Court proved they still had what it took to throw a grand event when they held their highly entertaining Jungle themed party, complete with trees, vines, camo netting and huge main tent in the front room. |
| | I joined Gareth, Sarah, Katie and hundreds of other slightly cracked skaters for the Friday Night Skate, an exhilarating run through London's streets. Despite our best efforts, none of us managed to die or be maimed. |
| | No UK summer is complete without the obligatory festival in a field, complete with tents, grass, panting doggies and booming sound systems. I hooked a lift with some kind Cambridge kids and headed north to Norfolk to catch some rare UK sunshine. |
| | While in Australia in March, I was lucky enough to be taken out around Sanctuary Cove for my first shot at wakeboarding, with my friends Marcus and Naomi. The results weren't exactly pretty, but I did manage to stay upright for at least a few seconds. |
| | While on holiday in Bris Vegas, I made sure to get down to Ballymore with Lachlan to enjoy the Super 12. This particular gallery is of the Reds vs Crusaders game, and features some rather yummy (but scarily young) cheerleaders. |
| | In celebration of my 28th birthday and my impending departure to Australia for two months of sunshine and relaxation, a bunch of friends gathered with me at Le Mercury for dinner, wine, and scintillating conversation. |
| | The charming folks at Orme Court held another fantastic event, this time a Red Hot Passion party for Valentine's day 2002. I donned a Marquis de Sade costume and joined the rest of the guests for a spectacularly scarlet evening. |
| | The Cambridge crew set forth on a wild boat cruise down the Cam, to celebrate the birthdays of Matt and Bubbles. In line with Matt's temporal achievement, the party's theme was "forty" and produced some highly original costumes. |
2001 was my first full year in London, with a large number of Orme Court parties and other events to keep me busy and amused. The year also saw me make it across to the USA - not once, but twice, and visit Cardiff to watch some rugby at the mighty Millenium Stadium.
2001 Picture Galleries
| | |
| --- | --- |
| | My 2001 New Years was celebrated with the Cambridge crew at Height Gate Farm, near Halifax, UK. We got there a day early to set everything up properly and then went completely nuts for the big night. A very good time. |
| | Rosie organised a delightful wine and cheese Christmas party at her house on December the 16th. Dress was black tie, so I seized the opportunity to don a formal kilt. A really fun evening, with nice people. Nice cheese too. |
| | Thanks to a friend's spare ticket, I got to watch the Wallabies play Wales in Cardiff in November 2001. We did a proper warmup at a bar, then moved on to the fantastic Millenium Stadium. A great day, even though the game wasn't the best. |
| | Yet another Orme Court party - yet another great night, this time a dark celebration of All Hallow's Eve for 2001, with the mood set by cloaks and Venetian masques. Others garbed themselves in holy robes, animal skins or worse to gain entry. |
| | While I was between contracts in London, I made a quick run to the States to make best use of my mighty pounds sterling. I visited Phoenix, the Grand Canyon and Las Vegas. Vegas is just like a fun park, except for grownups! |
| | Notting Hill Carnival was turning out a little lame and soggy, until Hamish and his crew led me to the promised land - a massive street party run by the wonderful Sancho Panza crew. Despite the rain, four hours of mad dancing ensued. |
| | The Court of Orme threw an Oscar Wilde party on the 4th of August 2001, continuing their tradition of fine and entertaining social events. The evening started out in a rather refined fashion, but later became rather more... oafish. |
| | A surprising number of Bond University alumni gathered in London for a rather swanky formal dinner on the 21st of July, 2001. Strutting about in a tuxedo chatting to pretty ladies proved too much of a temptation for me to stay away. |
| | I travelled to Cambridge for the 2001 Kings Event, starring the thunderously good Lab4. They were the best live act I'd ever seen, so it goes without saying that a really, really good night was had by everyone in our crew. |
| | Since it's one of my favourite London pubs AND just around the corner from my house, I held my 27th birthday lunch at The Westbourne. A really nice afternoon - thanks to everyone who made it along. |
| | Dressing as a pimpin' playboy for the Orme Courters' Playboys and Bunnies party in Feb 2001 was just too easy... so I wore a full-length fluffy white rabbit suit instead. I looked really cute, but not as cute as some of the girl bunnies. |
| | I visited the USA for the first time in January 2001, staying for two weeks. I visited San Francisco, juuuust barely learned to snowboard (painfully!) at Lake Tahoe and cruised Newark and New York. Awesome time - the US is fun. |
2000 was a time of great change, when I packed up my life in Brisbane and flew to Europe to begin a voyage of discovery. After a tour of the continent, I settled in London and learned how to make tea.
2000 Picture Galleries
| | |
| --- | --- |
| | My first London shindig was an awesome Halloween party, held on the 28th of October, 2000 by the crew at Orme Court. Tonnes of costumed crazies, including lots of pretty girls and me looking rather beastly as a furry werewolf. |
| | The Tower of London is pretty amazing. Nearly a thousand years of history within its walls - some of it pretty nasty, too. The Tower's collection of arms and armour is also fantastic, but be aware of the huge queues and crowds. |
| | I had to leap in and do the tourist thang in London, spending a day wandering around Westminster, taking in the sites. I saw many famous London icons, including Big Ben, the River Thames and Westminster Abbey. |
| | Before I could get settled in the UK, I departed Old Blighty for a 25-day Contiki tour around Europe. It was an excellent primer for me, being a European newbie, and I even made friends with fifty other stalwart travellers along the way. |
| | When my contract finished mid-July 2000, my sister and I escaped to Byron Bay, a beautiful beach town on the northern coast of NSW. Wandering along the beaches and paths up to the lighthouse proved very relaxing. |